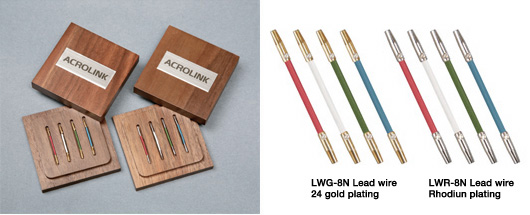 This is the Multi-stranding wire
Braided lines in three strands which made five 8N-Copper wire of 0.12mm twist wire into string. It follows that it reduces a distortion between the line for wonder, and a characteristie of the transmission of the music signal improves drastically.

The covering material adopts special Polyolefin. This is already familier with an audio system cable of ACROLINK.

Development new as for the Contact-pin. It is equipped with the connector which has begun to sharpen from solid Beryllium Copper of the world's first creation. There are 24-gold plated or Rhodium plated over the plating of the pure Silver of 10 micron. You can choose the difference of two nuance of a delicate sound.

The joining to the cable of the Contact-pin is pressure way of wearing type with screw. No solder. Because there are not impurities, there is feeling of transparence, and powerful sound is realized.

New as for the Contact-pin
The 24-gold plated model reproduces a nuance of the Mid and High-frequency in high density. The Rhodium plated model directs a flat response in high definition over all bands.

The standard, the specification, and the price of the product might change without a previous notice.
Acrolink® is a registered trademark of Acro Japan Corporation.